The Black Flag COMPETE Program at Black Flag Athletics is a comprehensive training program designed for dedicated athletes looking to compete in the sport of fitness.
It incorporates all facets of strength, power, skill and energy system development needed to compete on a high level.
What's included in the Black Flag COMPETE Program?
The program is designed as part of annual periodized plan allowing for a structured balance and progression throughout the year.
Access to COMPETE Programming

24 hour gym access

7,000 sq/ft. Fully Outfitted Training 

Facility

Competition prep for local/national events

Dedicated coaching hours

Maximize Fitness for Competition
Track, analyze, and create performance metrics
Planned track of performance to minimize overtraining / CNS and Endocrine fatigue
Comprehensive approach consisting of a periodized training mode
The program runs 7-days per week (Includes Rest/Active Recovery Days)
Contact Mandi for more information:
[email protected]
COMPETE
Monthly
$195
On-Site
Black Flag Competitor Program
Join
COMPETE (Remote)
Monthly
$45
Remote
Try 1st Month for $19.99
Join
COMPETE Individual
Monthly
EMAIL
Personalized Competitor Program
Individualized Competitor Program
Email Jim & Tom
Jim Leuenberger
COMPETE Head Coach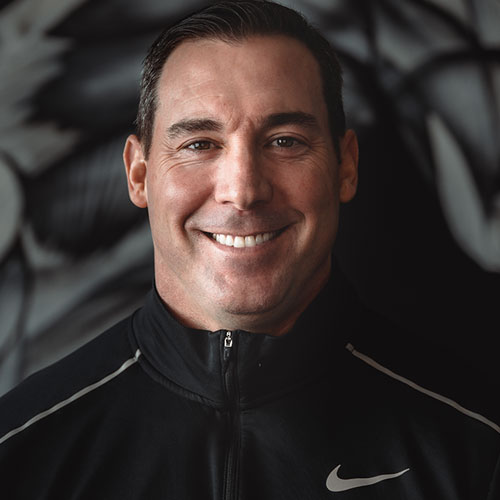 Tom Rini
Head Coach & Owner
About Coach Tom
With over 20 years of experience in the Strength & Conditioning, athlete development, and fitness industries, Tom has been fortunate to have accumulated an extensive background in performance enhancement along with health, fitness, and wellness coaching. Additionally, he has vast experience and knowledge in sports performance, CrossFit and Competitive CrossFit, injury prevention, athlete development, human movement enhancement and correction, and Olympic weightlifting. His experiences include the Director of Sports Performance at St. Ignatius High School, the Owner of A.I.M. Personal Training, the International Performance Institute at the I.M.G. Academies, and head Olympic Coach at Black Flag CrossFit. Currently, Tom is the C.E.O. and Co-owner of Black Flag Athletics.
Throughout his career, he has had the distinct pleasure of training numerous state and national champions, state record holders, elite CrossFit athletes, and collegiate and professional athletes in a variety of sports and fitness settings.
EDUCATION:
MASTER OF EDUCATION (MEd)
Health & Physical Education Emphasis
John Carroll University
EXERCISE SCIENCE & FITNESS SPECIALITIES (BA)
John Carroll University
EXPERIENCE:
BLACK FLAG ATHLETICS
Head Coach/ Owner
May 2015 – Present
BLACK FLAG CROSSFIT
Head Olympic Weightlifting Coach
CrossFit Coach
ST. IGNATIUS HIGH SCHOOL
Health & Physical Education Teacher
August 2000 – June 2006
Director of Sports Performance
July 2002 – June 2006
INTERNATIONAL PERFORMANCE INSTITUTE
Intern
March 2000-April 2000
A.I.M. PERSONAL TRAINING
Owner
June 2000-May 2002
January 2011 – August 2015
COMPETITIVE FITNESS EVENTS
Granite Games
Wodapalooza
The Fittest Experience
The Westcoast Classic
CERTIFICATIONS:
CERTIFIED STRENGTH & CONDITIONING SPECIALIST
National Strength & Conditioning Association
USA WEIGHTLIFTING LEVEL 1
USA WEIGHTLIFITNG CLUB COACH
USA Weightlifting
FITNESS SPECIALIST
EXOS Training
BIOMECHANICS SPECIALIST
National Exercise & Sport Trainers Association
CERTIFIED CROSSFIT TRAINER (CFL3)
Bigger.Faster.Stronger
COMPETE
Looking for more information?
JIM LEUENBERGER
Head Coach
TOM RINI
Assistant Coach
MANDI BERNOT
Sales & Memberships